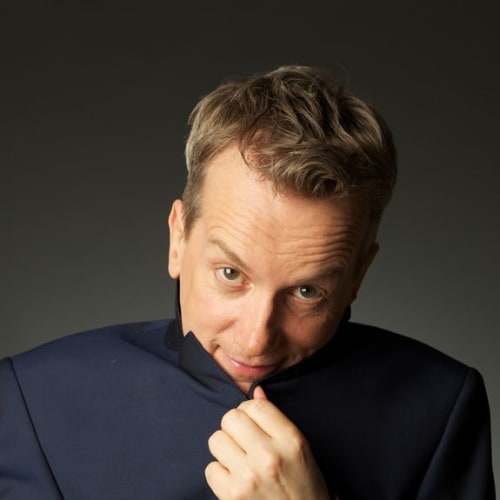 About Frank Skinner
Award-winning comedian Frank Skinner kicks off the weekend on Absolute Radio from 8am every Saturday morning when he's joined by co-presenters Alun Cochrane and Emily Dean for a hilarious show combining chat and real music. On Absolute Radio since 2009, his podcast was named one of the best podcasts of all-time by iTunes and is the most successful in commercial radio.
He's won two Gold Radio Academy Awards including 'Best Entertainment Show' and 'Best Speech Programme' which he described as "like the Hungry Caterpillar winning the Pulitzer prize". He's also been inducted into the Radio Academy Hall of Fame for his work which has transcended both BBC and Commercial radio.
Frank Skinner's live career began in 1987 when he spent £400 of his last £435 booking a room at the Edinburgh Festival Fringe. Four years later in 1991 he returned to the city and beat fellow nominees Jack Dee and Eddie Izzard to take home comedy's most prestigious prize, The Perrier Award. He last toured the UK in 2014 with the extended, critically-acclaimed Frank Skinner: Man in a Suit which included a sold-out return to the Edinburgh Festival Fringe.
As a television and radio performer, Frank Skinner is now hosting his fifth series of BBC One's Room 101 which will air in January next year, and has hosted two series of Portrait Artist of the Year (Sky Arts) which will rebrand for its next series as Landscape Artist of the Year.
Frank also created and hosted three series of Frank Skinner's Opinionated for BBC Two, wrote and starred in two series of the critically-acclaimed comedy drama series Don't Start for BBC Radio 4, which will shortly return for a third series, and created The Frank Skinner Show (ITV), which is widely credited as setting the tone for the modern comedic chat show and ran for nine years, attracting 11 million viewers at its peak. He regularly guest-hosts Have I Got News for You (BBC1) and presented a documentary investigating the life of George Formby (BBC Four). In 2014, he appeared as a guest star in Mummy on the Orient Express, a series 8 episode of Doctor Who (BBC1).
With David Baddiel, Frank created and presented Fantasy Football and Baddiel and Skinner Unplanned (ITV). Alongside The Lightning Seeds the pair attained three number one hits with the football anthem Three Lions. As an author, Frank has published Dispatches from the Sofa; a collection of columns he wrote for The Times over a two year period and has written two autobiographies, the first of which, Frank Skinner, was the top selling autobiography of 2002, spending 46 weeks in The Sunday Times Bestseller List. The second Frank Skinner: On The Road, chronicled his 2007, sell-out return to stand-up.
Message Frank
Related Presenters